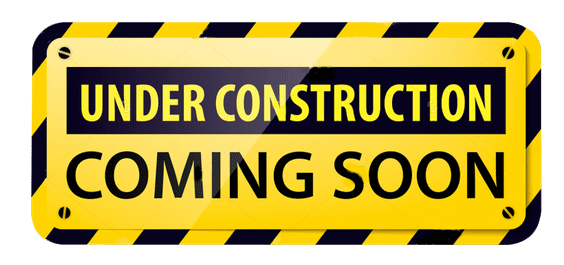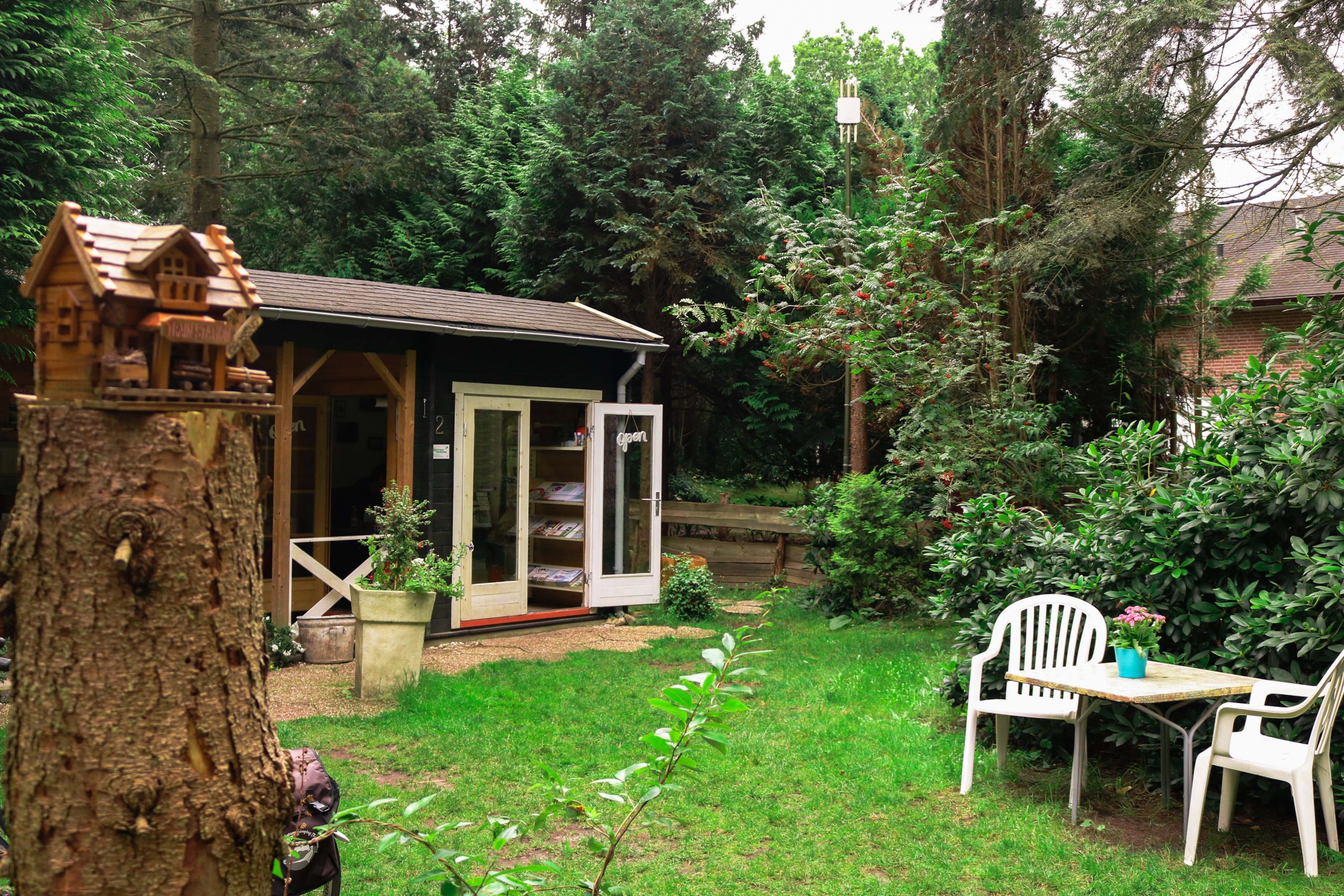 Reception
The camping has an reception on pitch 1-2, immediate right at the beginning of the terrain. The reception will be open at different times, for the actual opening hours, check the board at the reception. In case there is no-one available at the reception, please call the provided number and we will come as quickly as possible to help you.
At our reception you can make use of our Wi-Fi. Under the bowler you can sit dry on our couch or at the reading table. There are also electricity sockets so you could (at own risk) charge your phone or other electronic devices. Also you will find multiple information folders and laminated hike and bike routes.
Did you forget something at home ? Are you out of Gas ? Did you lose something ? If you need any help with anything, please let us know, we are eager to help !
Sanitary Units
On the camp site there are multiple sanitary buildings with toilets, warm showers and running warm and cold water. All the warm water is dispensed by a coin token system. We work with 20 eurocents, 50 eurocents, and special shower tokens which you can get at the reception. All sanitary buildings are equipped with hand soap, dishwashing liquid, disinfectant alcohol and toilet paper.
The "van Keulen" unit on the front of our grounds, around T03, has toilets, sinks with 1 warm water point which works on 20 eurocents, 1 shower that works on 50 eurocents and 1 shower that works on shower tokens, a dumping pit and a small waist sorting station.
The "JW sani" and the "Storm" units are on the middle of our grounds has toilets, sinks with 2 warm water points which works on 20 eurocents, 2 showers that work on shower tokens, a dumping pit and a waist sorting station. In the Storm building you will also find a swap library, microwave, fridge with freezer and the lost and found.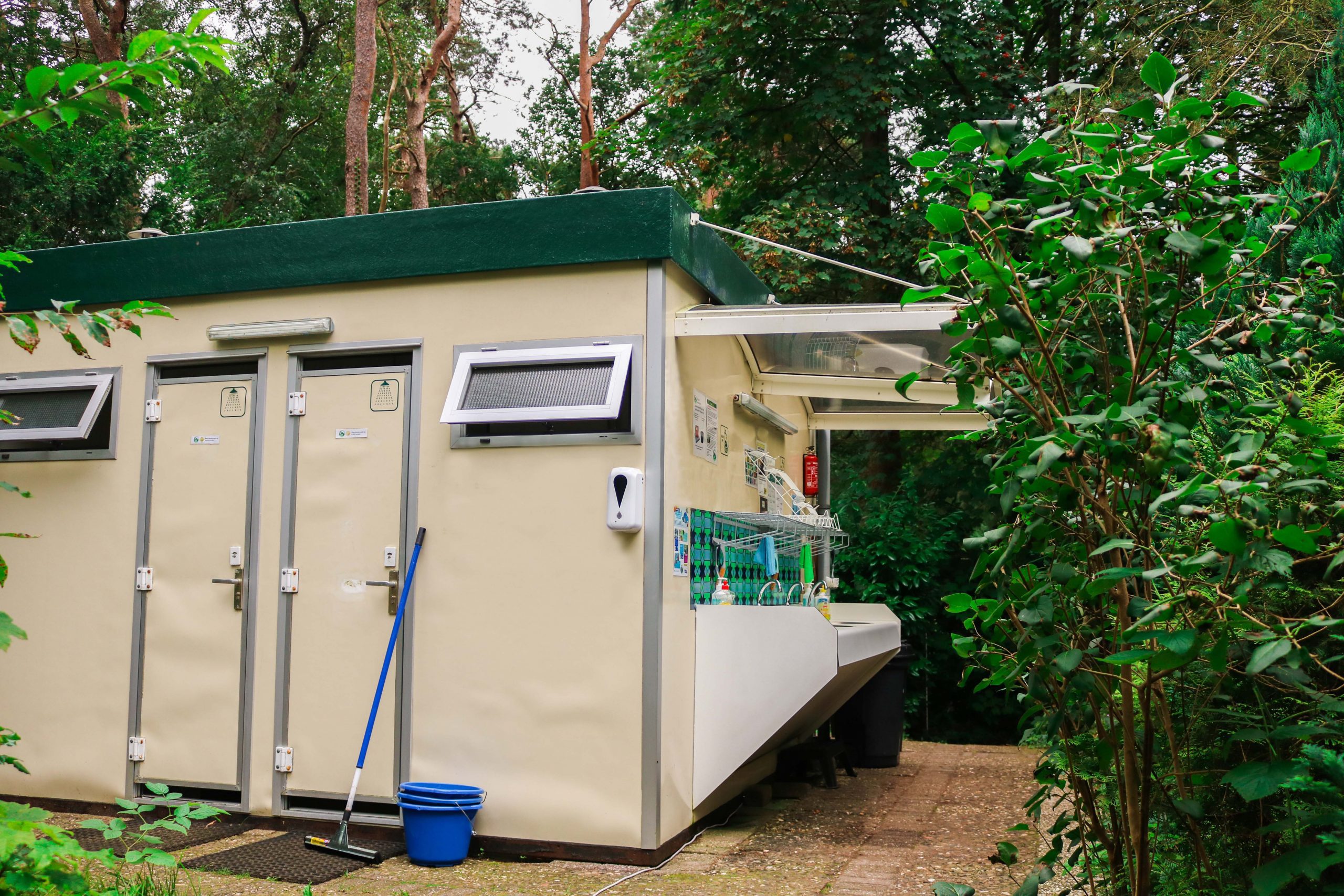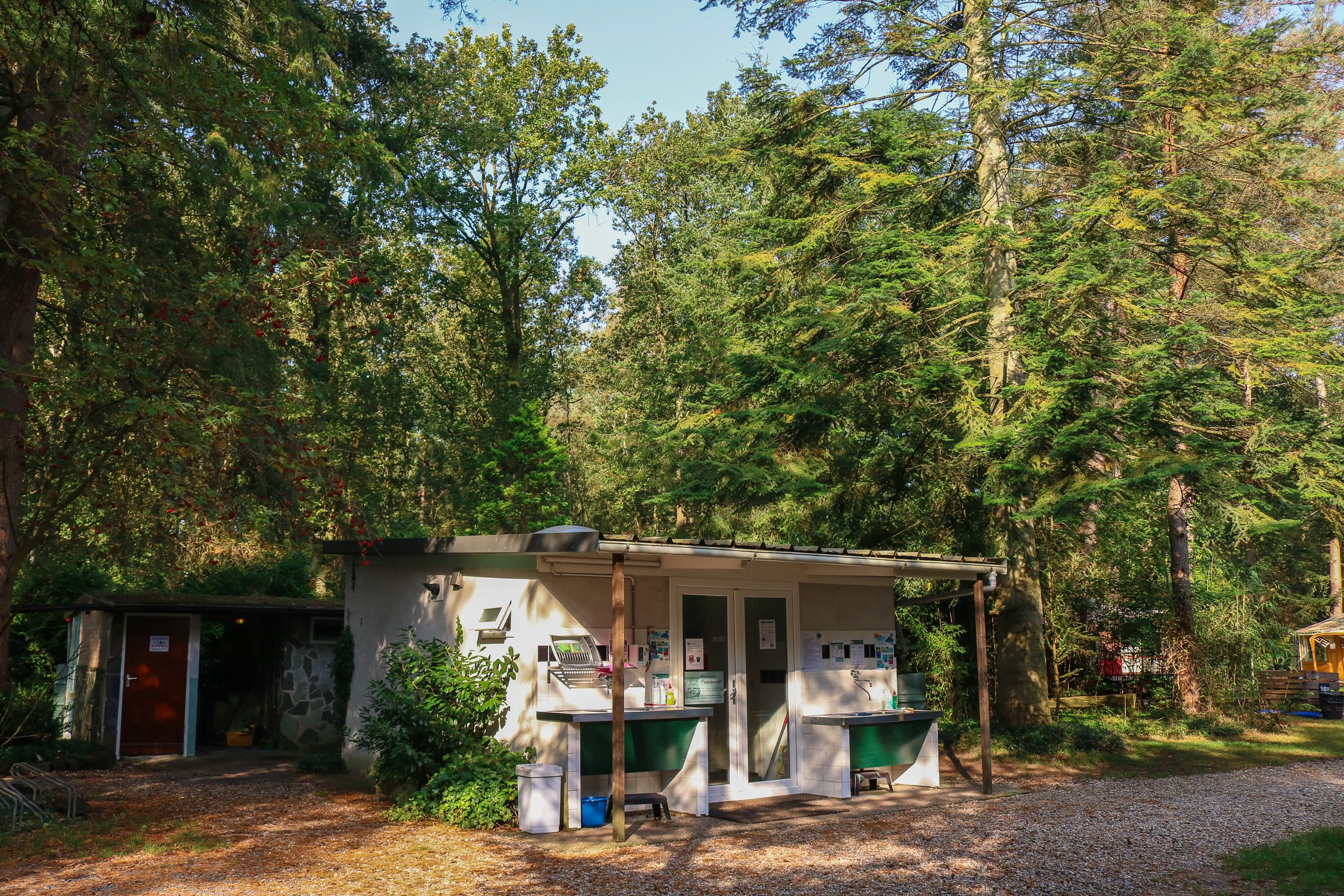 Camping pitches
The camping terrain is almost 2 hectare in size and has 60 places along the sides for caravans and campers and on the middle of the field 25 pitches for large or small tents to camp recreational during the season. At the end of the terrain several pitches are intendent for group bookings. 
On almost all the caravan pitches it is possible to connect you to electricity (10 ampere/euro plug). Since 2021 we also have comfort pitches with a water connection and drain for grey water and we have multiple tent pitches where we can connect you to electricity (6 ampere/euro plug).
On our camping there are no facilities for permanent stay or other ways of living. Also we cannot place any new mobile homes. We do offer seasonal pitches, for more information, click here

*Click on the map for more information.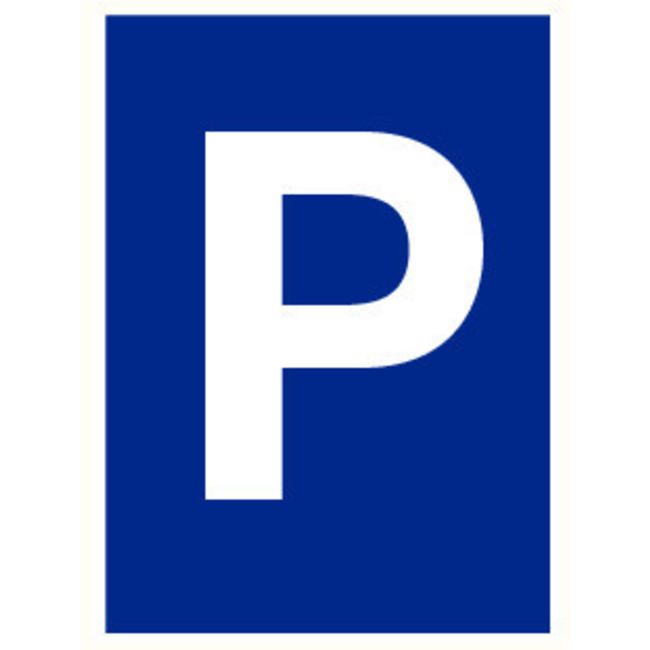 Parking
It is not allowed to drive on the campsite besides placing your camping equipment. Please try to limit the time of loading and unloading and place your car on the parking lot.
We are a car-free campsite and have also taken this into account when classifying our seasonal pitches. It is not allowed to drive the site by car, except for your camping equipment. There are several parking spaces along the road where you can park your car.
Pets
Pets are more than welcome on our campsite, but must be on a leash the whole time. In addition, the animals must be registered at the reception. The owner is responsible for cleaning up what his or her pet leaves behind. At the reception you will find information about the off-leash areas in the area known to us.
Guests and visitors
Guests and visitors should report themselves at the reception on arrival. The associated costs will be added to the bill and can be paid for immediately. Visitors should leave our campsite before 21:00.
Gazebo /Bower
There is a gazebo in the middle of the site near the sanitary building, this gazebo is intended to provide shelter for tent campers when it rains, but of course the gazebo is accessible to everyone. Next to the gazebo we have two jeu de boules courts and a table tennis table. Jue de boules balls, table tennis bats and balls can be found under the gazebo. You can also use the possibility to barbecue on our stone BBQ, you can pick up the grill for this at the reception. You can also make a campfire in front of the gazebo. You may also light a fire or barbecue on the site if you strictly adhere to the rules.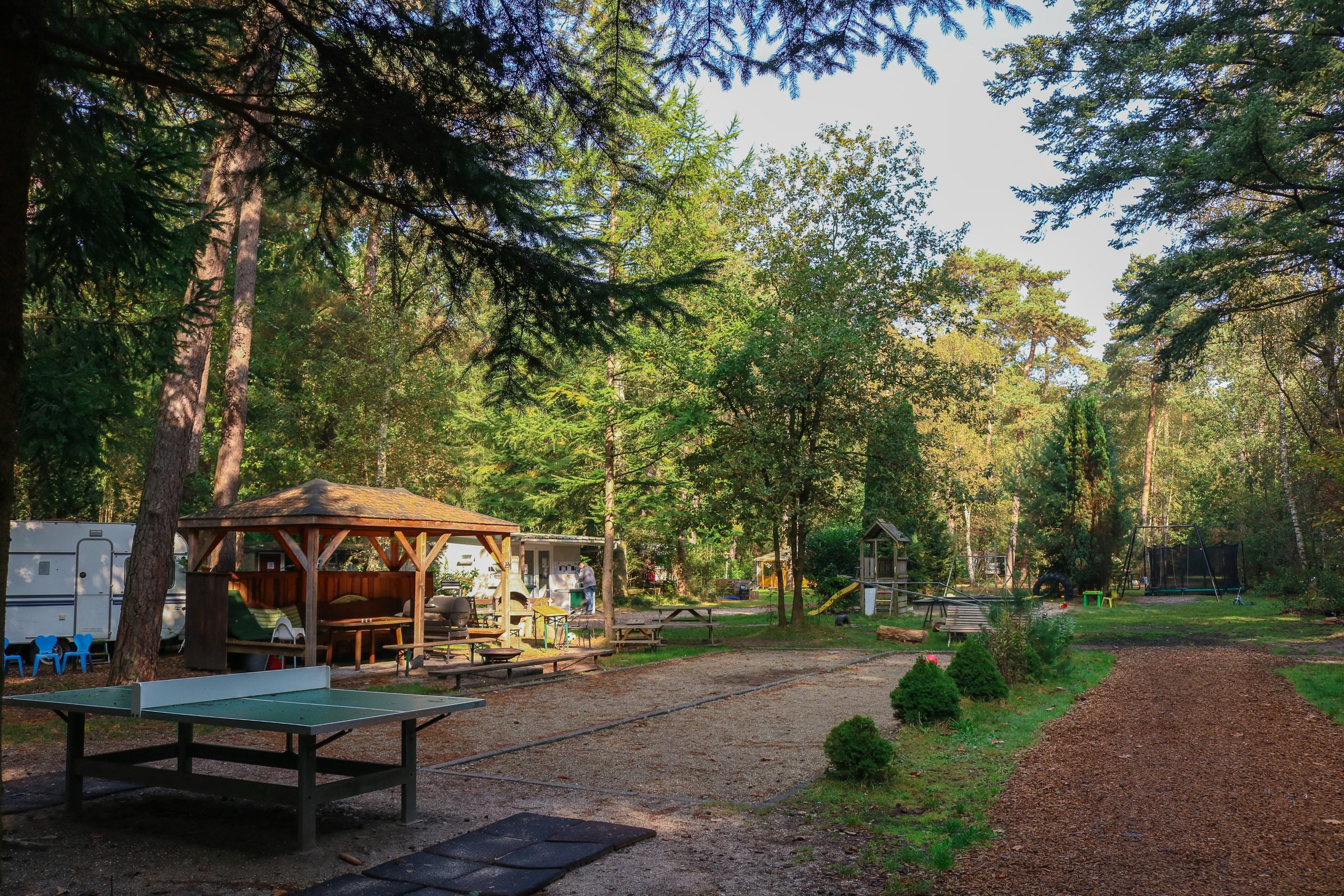 This is what you want to know if you want to use a fire pit at the campsite!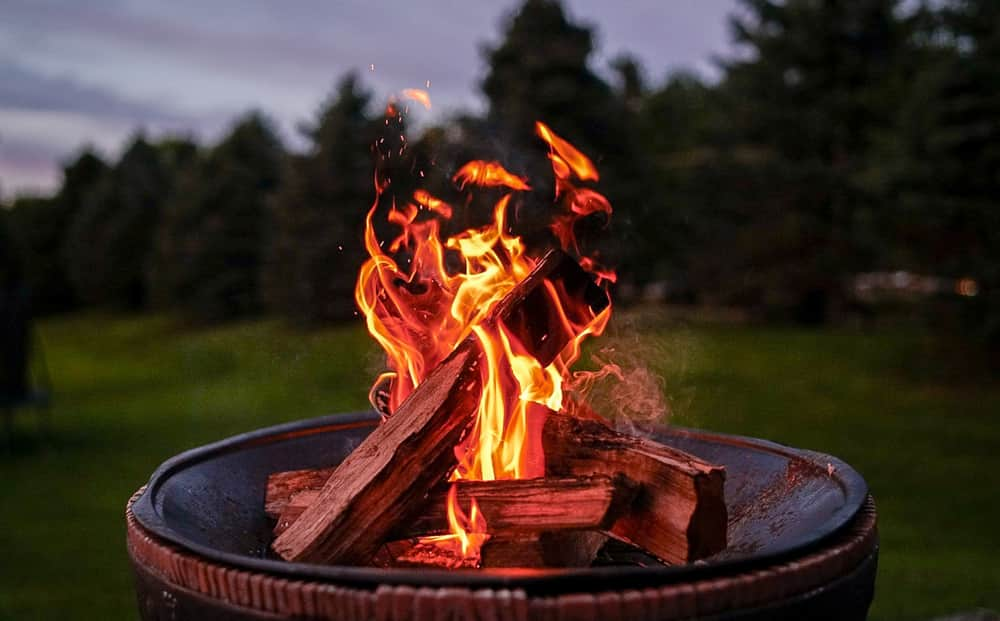 Fire Rules
The use of a BBQ and/or a fire pit is only permitted if www.natuurbrandrisico.nl indicates phase 1. At phase 2, open fire is completely prohibited and only gas BBQs may be used. If you are allowed to make a fire, then the following safety rules must be strictly observed;
It is only allowed to burn in a fire pit, fire bowl, outdoor fireplace or BBQ on legs. If you do not have a fire pit with you, you can rent one per night at the reception.

Makeing a fire on the ground or only on the tiles is prohibited!

Place several pavement tiles under the BBQ or fire pit, so that the entire scaffolding rests on stones.

Ready-made BBQs should be used on a stone and an elevation or table.

A bucket of water is within reach, just in case things go wrong.

Make sure you do not cause smoke nuisance for the environment, see the 5 heating tips.

When lighting, you are the responsible designated person who controls the fire and extinguishes it when leaving the fire.

After cooling, the ashes can be deposited in the ash bucket at the gazebo, next to the stone BBQ. This bucket is for ashes only!
Playground
For our little guests we have a playground with;
a sandpit,
two swings,
a net swing,
a seesaw
a trampoline*
*At the trampoline, please point out the rules that apply to the trampoline to your children.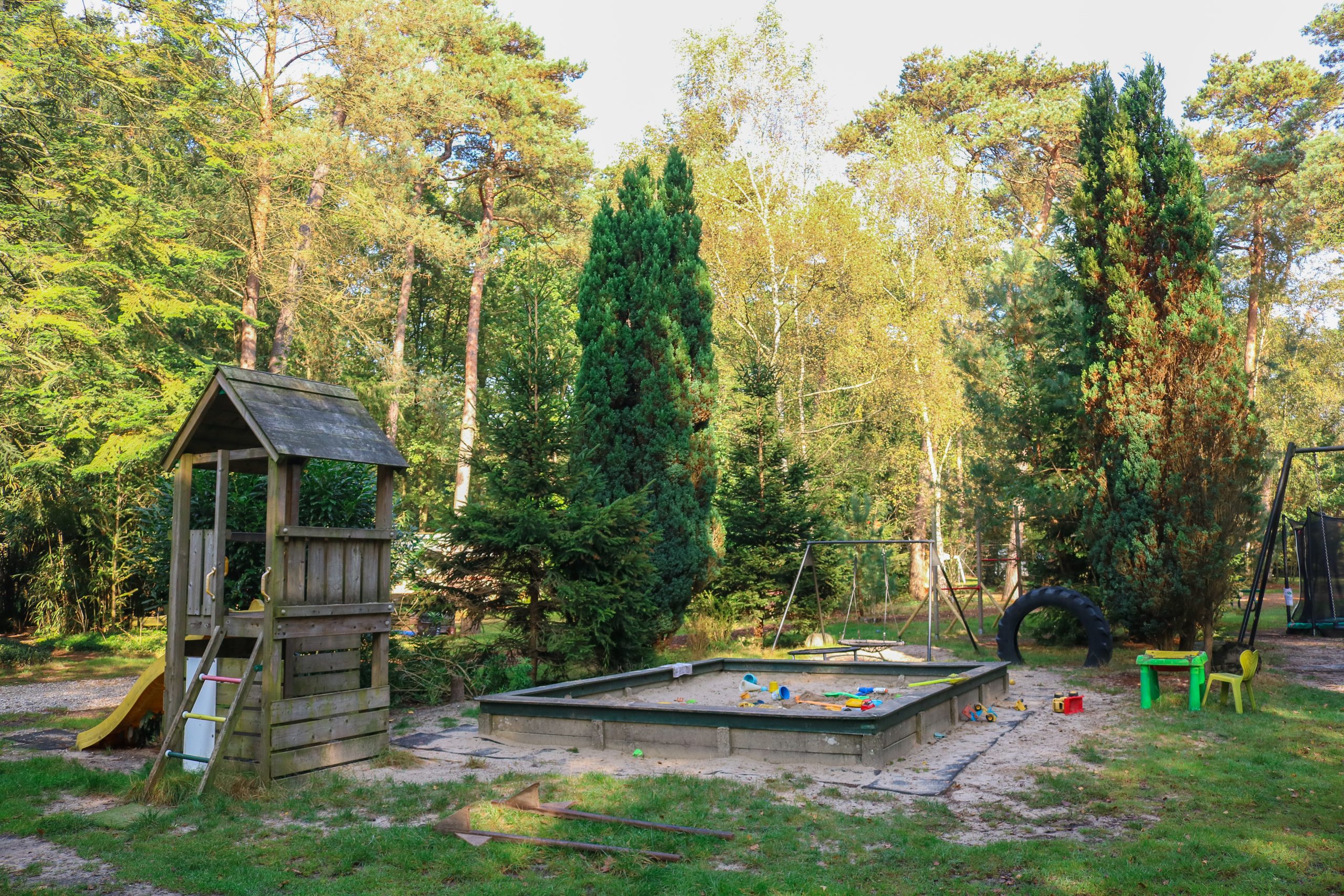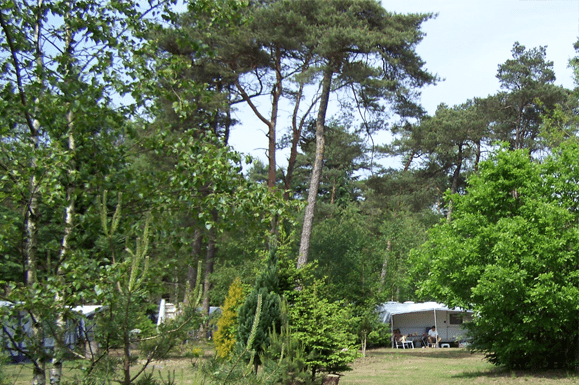 So what is a nature camping of nature camping site ?
A nature campsite is a campsite in the middle of nature. We are not to be confused with a naturist campsite and therefore just wear clothes. We are also NOT affiliated with an organization such as the Groene Koepel.
We are not your average campsite, where your pitch is drawn with strait lines, often with the help of hedges. No, we use a piece to forest to camp under the trees. We work with place indications that are designated by us, but no place is exactly measured and demarcated. We are not a boxes camping site, but by using groves and other natural resources, we are a very playful and, above all, natural-looking campsite. However, you can pass on your wishes and we will do our best to meet them.
We are a campsite for everyone, from young to old and for all walks of life. We are a nature campsite, but we are not a quiet campsite, nor a quiet area. A lot is allowed, as long as you also take your neighbours into account and do not disturb the natural environment of our campsite.
Camping on a nature campsite or nature camping site is camping in its purest form. It is camping under the trees, among the greenery.
Compared to most other campsites, our site distinguishes itself on the following points:
Natural location
Our grounds are located in one of the most beautiful landscapes, far from the hustle and bustle. Thanks to the aerial photos from Google Maps, you can see that these are not empty words. Sometimes you literally can't see the campsite for the trees! The terrain is almost dark at night, so a good flashlight is a necessity.
Small scale but spacious
We are modest in size, but you can always be sure that every camper will get a spacious pitch. It is precisely this extra space that gives more peace and privacy. Even during the peak periods during the holidays, every effort is made to offer all guests as much space as possible.
Simple amenities
Don't expect bathrooms with whirlpool baths, but do expect toilets and running water. We just have a hot shower. There are also extra facilities such as possibilities to make a fire or a bad weather facility.
Child friendly
Children also feel at home at our nature campsite. Often simple facilities such as a sandbox, swing or rampoline are sufficient. But the biggest playground is the natural forest, where there is plenty to discover.
Respect for your rest
Nature campers are generally peace seekers. We try to keep the peace as much as possible, but we are not a quiet area, so you may experience more noise one day than the other. To guarantee peace and safety at the campsite, we have drawn up regulations to ensure that everyone's stay is completely satisfactory. Read the full camping regulations here.
In short, we respect nature and think carefully about our actions, we keep the peace as best as possible, but we enjoy our surroundings in the presence of friends and family.
For those who feel like it and have the time, here's a nice link to an extensive story about what a nature camping site actually is; 10x wat is een natuurkampeerterrein eigenlijk (only avialable in Dutch)
The terrain is almost dark at night, so a good flashlight is a necessity.
In order to guarantee peace and safety at the nature campsite, we have drawn up regulations to ensure that everyone's stay is completely satisfactory. Read the full camping regulations here.